Thailand Pavilion – Sheikh Zayed Heritage Festival
Embrace Global Connections, Amplify Your Success. Meet millions of wealthy buyers at Sheikh Zayed Heritage Festival !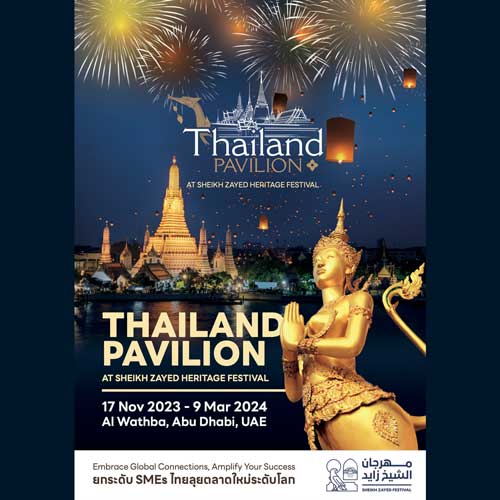 Event Information
Name of Project: Thailand Pavilion Sheikh Zayed Heritage Festival
Date: 17 Nov 2023 – 9 Mar 2024
Location: Al Wathba, Abu Dhabi, UAE
The Sheikh Zayed Heritage Festival is one of the most renowned cultural events in the United Arab Emirates (UAE). Each year, it attracts a diverse audience of visitors, including industry professionals, tourists, and enthusiasts of heritage and tradition. The festival is a testament to the UAE's commitment to preserving and promoting its cultural heritage while fostering international cultural exchange.
Why Exhibit?
Generate Great Profits: Joining us at this prestigious event offers you the opportunity to generate great profits by selling products to a large number of affluent visitors from around the world.
Forge New Connections: You can network with influential individuals and forge profitable connections that lead to potential joint ventures or investment opportunities.
Gain Competitive Insights and Market Intelligence: You can gain valuable insights and market intelligence from the event. This knowledge empowers you to gain a competitive edge and maximize profitability in the market.
Product Category
1. Handicrafts and Artisanal Products
2. Food & Beverages
3. Wellness and Spa Products
4. Fashion and Textiles
5. Home Decor and Furniture
6. Toy & Souvenirs
7. Agarwood & Oud
8. Gems & Jewelry
9. Tourism & Medical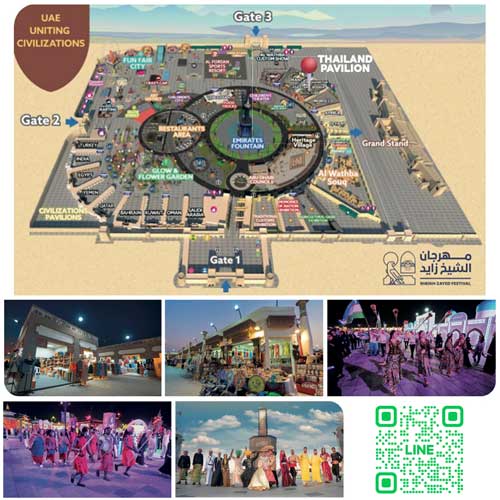 Contact Us – For enquiries about exhibiting at the Thailand Pavilion Sheikh Zayed Heritage Festival in Abu Dhabi, UAE. Register now and book your space! Opportunity to showcase your products and services to a global audience.
EAT x VEGA Exhibitor Service Team:
LINE Official: @eatconnection
https://lin.ee/n0PE16D
WhatsApp: (+66) 088-007-8972
https://wa.me/message/PPEBBR2KHHQBK1
Email: info@eatconnection.com