EXPORT : Thailand, UAE, and Bahrain
One-Stop Export and Distribution Platform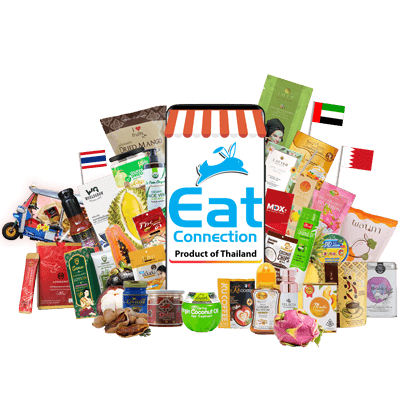 Export Thai Products to UAE & Bahrain
EAT One-Stop Export Service to the Middle East
THAI SOUQ DUBAI
A new waterfront shopping and dining destination at Souk Al Marfa, located in the Deira Islands, Dubai. Thai Souq is the ultimate Thai shopping destination, with an impressive line-up of more than 50 stores.
THAI MART BAHRAIN
The first Thai shopping mall in the Middle East with more than 130 outlets covering a 6,700 sqm space in Diya Al Muharraq. Thai Mart offers a wide range of authentic Thai products, fine dining, entertainment, and leisure attractions.
EAT Thai Market
Omnichannel wholesale and retail platform in the Middle East. EAT Thai Market Imports and distributes over 100 brands to wholesalers, retailers, HORECA, and direct to consumers in UAE and Bahrain.
Middle East News and Updates
5th Thai Exhibition Oman The 5th Thai Trade Exhibition Oman 2024, from May 7 to 11, 2024, at Oman Convention & Exhibition Centre (...
Thailand Pavilion - Sheikh Zayed Heritage Festival Embrace Global Connections, Amplify Your Success. Meet millions of wealthy buyers a...
The Elite Collection One Tambon One Product The Community Development Department is leading a group of OTOP product entrepreneurs from...